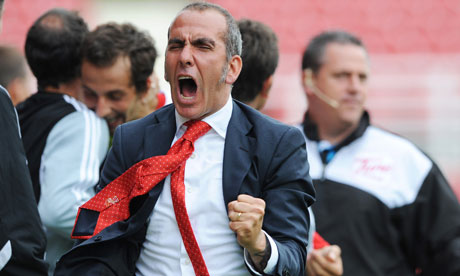 Johnstones Paint Trophy
Exeter City 1 Swindon Town 2
Due to reasons of budget this was my first game of the season, but the promise of an early kick off (a good move to get some kids in) and reduced prices made it worthwhile to come down to the game.
What a contrast in styles it was too. I made the mistake of not bringing my camera and the getting seats behind the dugouts. One cultured, measured, calm and collected, the other passionate, demonstrative, fiery and, at times, comical. Not talking about the teams but the managers and their contrasting styles. It must be a good job that Paolo Di Canio eats a healthy Mediterranean diet, otherwise he'd be a surefire candidate for a heart attack. I think he put in more effort than some of his players.
Actually, not true. His side deservedly came out on top tonight and on this showing things are looking good for the side - if he can contain his frustration with his side. I get the impression that as a genius on the football pitch he might struggle with lesser players who cannot do what might have been instinctive to him.
Exeter, on the other hand, have a bit of a job on this season. They have lost the spine of their team - captain Matt Taylor, playmaker Ryan Harley and last season's top scorer Jamie Cureton, and are clearly struggling. Early days and there are worse teams than us in this division but Paul Tisdale has his work cut out. With Keith Millen being given the boot at Bristol City there is talk of Tisdale being one of the people on their list. They'd be daft not to look seriously at him and I fear it might be a good move for him. We certainly don't owe him anything but immense gratitude if and when he leaves. But I do fear that the task will be much, much harder without him at the helm. We'll see how it all pans out.
At least this wasn't a league game so nothing really lost in the end. Though a small boy behind me was heard to bemoan the fact that we only have the FA Cup to play for now this season. So, no pressure Paul!